Thank you for being a valued customer of WP Encryption. Everyone can get through the domain verification part but when it comes to the SSL installation & renewal part, We've received requests from several non-cPanel users having difficulties. To overcome this difficulty, We're introducing Cert Panel since v5.10 which helps you generate One Year Premium Comodo Sectigo SSL Certificate instantly, this solution is available as Single Domain SSL (covering both www & non-www domain) for ANNUAL plans only. You can easily install this premium SSL certificate on your hosting platform or send it your hosting support to install it for you and forget about SSL renewals as the cert will be valid for one year straight without any need of renewal!.
Features of Cert Panel
Generate hundreds of premium SSL certificate from one place! – Yes, you don't need to install plugin on multiple sites, you can generate premium SSL certificate for hundreds of different domains from one site w.r.t to your PRO license quota. Bonus: you get the Secured by Sectigo trust logo which you can embed in footer of your site to increase user trust.
Simple email based verification – No need of struggling with file uploading, DNS updation, etc., You can easily click on link provided in email and enter the verification code provided in the same email to complete the verification in a second.
Download certificates and key from one place – Whether you have single site or hundreds of active sites under Cert Panel, You can download certificate & key files (required for SSL installation) for all the domains from one place / site.
Simple renewal process – All you need to do is generate new premium certificate yearly once and re-install it. Ofcourse, you will be notified via dashboard or email near to expiration date.
How to get started?
Please make sure you have ANNUAL PRO license of WP Encryption activated, run the SSL install form with Single domain SSL option and you will land onto Cert Panel page if you have non-cPanel / super restricted hosting platform where other SSL solutions cannot work.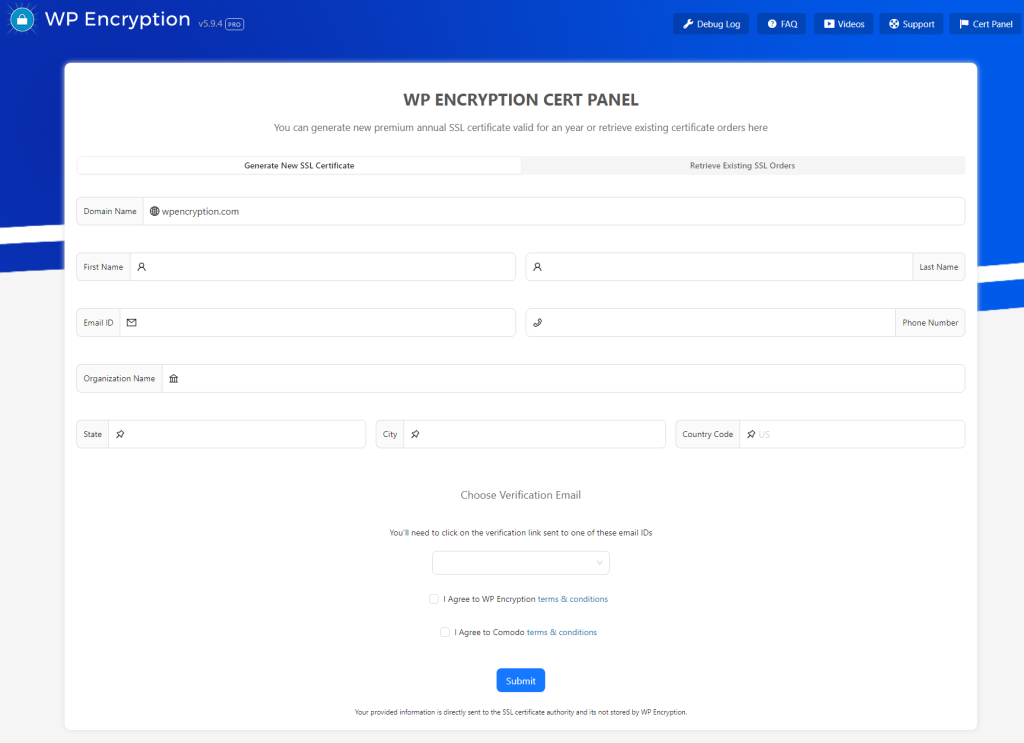 Fill-in the basic details required by the SSL certificate authority and choose verification email wisely from available options.
Note: WP Encryption Pro will automatically try to complete the verification and forward you straightaway to the Download SSL Certificate page. Email verification page will be shown only if automatic verification couldn't succeed.
If you don't have any of these email addresses created, You can easily create required verification email address like admin@yourdomain.com, webmaster@yourdomain.com, etc., via Email Accounts option inside your hosting panel.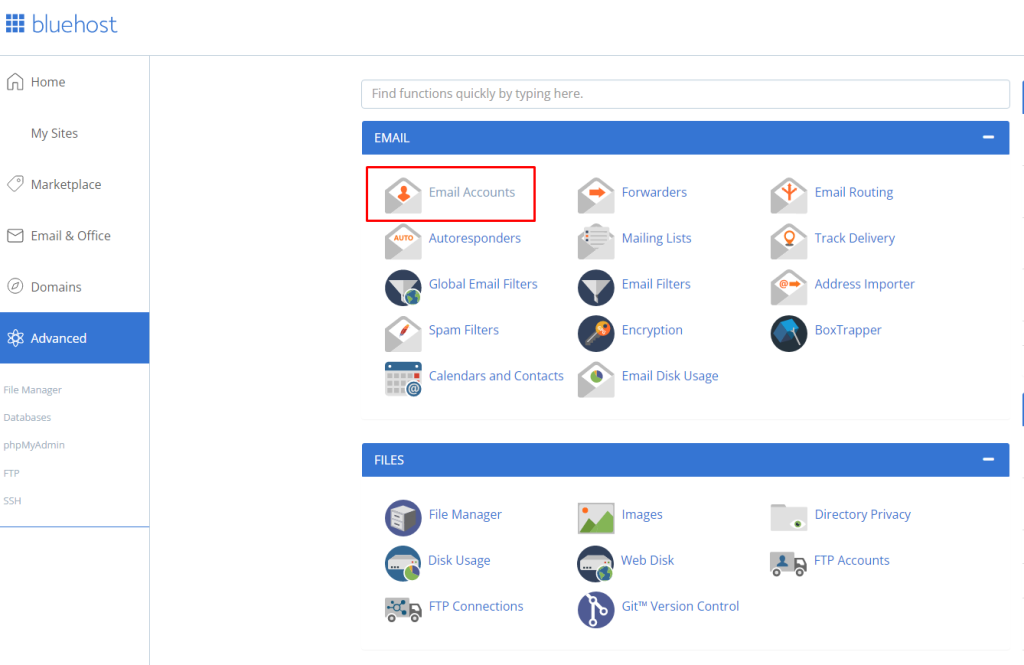 Otherwise, you can access the System email account to see all the emails including unavailable / invalid email address of your domain,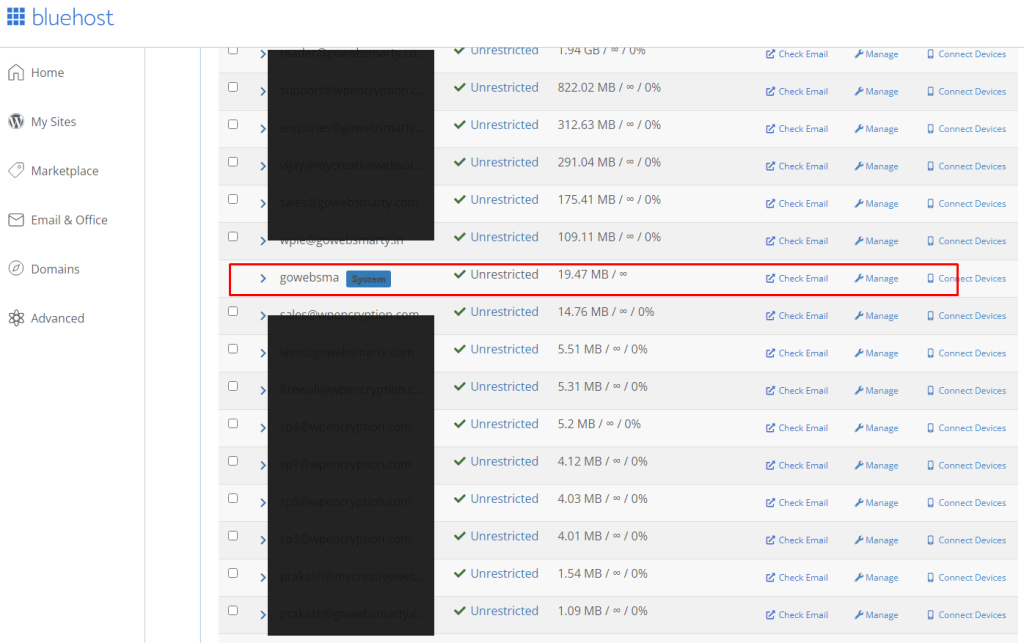 If you don't have access to webmail of your domain at all, please reach out via support[at]wpencryption.com and we will provide you DNS verification details instead of email verification.
Verification email will be as below, Please click on the link provided in email and enter verification code to complete the verification.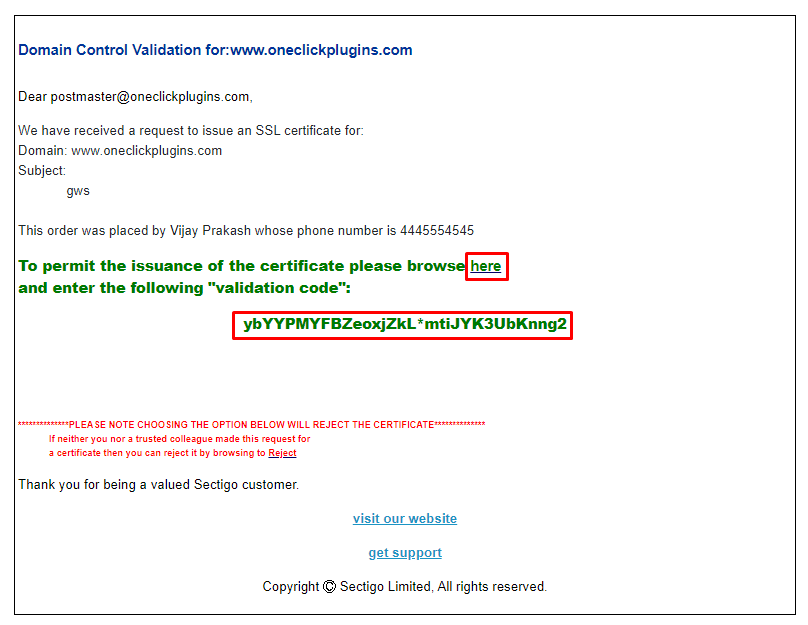 Your Premium SSL certificate is now ready!. You can download the premium certificate, private key and ca bundle files with a click of button. The certificates zip file contains primary certificate file and Sectigo ca bundle files in .crt as well as plain text format.
Lastly, the SSL installation part – Please login to your hosting panel and search for SSL/TLS option, you will be asked to input certificate, private key and ca bundle information, please input the information from downloaded files and complete the SSL installation. Your HTTPS site will start working right away.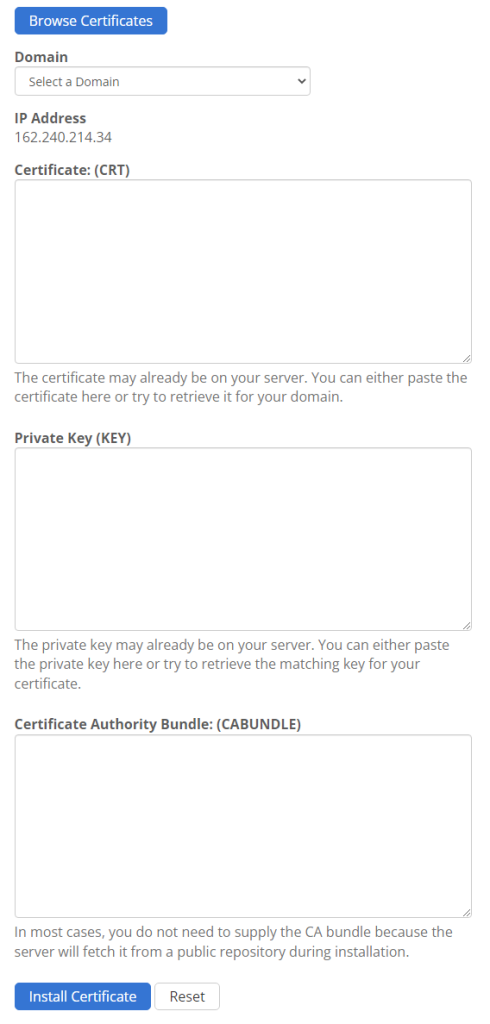 Once after installed, please enable Force HTTPS feature of WP Encryption and you're all set for an year!. You will only need to generate & install fresh SSL certificate like this yearly once going forward.
If you couldn't find any SSL/TLS option in your hosting panel, please contact your hosting support and ask them to install the SSL certificate files for your site. If you have any issues or you are on self managed servers on AWS, Digital Ocean, Azure, etc., feel free to reach out to our support forum at gowebsmarty.in and we will handle your installation quickly. The verification & installation process is not really hard or lengthy process as it sounds, We've tried to make these instructions as detailed as possible.
Bonus:
Once after successfully installing the premium SSL certificate, you can save the below trust logo by Sectigo and embed it in bottom of your site to boost user trust and authenticity.

Important Note for Existing Annual Pro Customers
If you had previously completed the DNS based SSL setup by updating your domain DNS records to point to our SSL proxy address 151.139.128.10, please generate and install the new premium SSL certificate for your site following above given tutorial. Once after successfully installed, please revert back your domain DNS records to your original server / hosting IP address i.e.,:
Primary "A" record of your domain must point to IP address of your hosting server
IF there is "A" record with hostname "www", please delete it.
CNAME record with hostname "www" should point to your non-www domain
You're required to make this transition from SSL proxy to premium SSL certificate before March 10, 2023 to avoid site disruption due to shutdown of our SSL proxy service.
---
How Good is Comodo SSL Certificate for My Site?
When you use a Comodo SSL certificate offered by Cert Panel, you're putting yourself in extremely good company. How good? Well, for example, 7 of the 10 top fortune 500 companies in the world are using Comodo branded certificates. If you want your business to be trusted on a level similar to the top companies on the planet, Comodo certificates are a great place to start. This brand is one of the most trusted in the world, as Comodo certificates are the most common SSL on the internet. Online customers are running into the Comodo trust seal on a very frequent basis, and they are quickly recognizing that websites protected by this brand are safe to do business with.