GPT-3 by OpenAI is the new state-of-art natural language processing technology that every blog writer was waiting for and its finally here!. Experience the power of AI content generation and image generation directly within gutenberg page builder of WordPress with free "WordMagic AI" WordPress plugin.
WordMagic AI uses latest text-davinci-003 model of GPT-3 to generate high quality, engaging, creative content for your WordPress site with your preferred writing style and writing tone selection. The plugin is packed with super awesome features like automatic introduction & conclusion generation, DALL-E powered featured image generation, etc., You can choose number of headlines and even drag & drop the order of headlines. Headline specific content generation is taken care by WordMagic AI right away.
WordMagic AI interface is purely designed for non-technical WordPress users. The distraction free interface blends very well with Gutenberg page builder of WordPress and allows you to easily enter a title and headlines count in order to generate content within seconds. Speaking about the plugin settings, all the tedious parts are taken away and you only need to enter OpenAI API key and choose writing style & tone to get the plugin working. No complex configuration required.
Below is the step by step guide explaining the process once after you install and activate the WordMagic AI plugin:
WordMagic AI – ChatGPT WordPress settings panel
Register account at beta.openai.com and make a note of your API key. Enter the API key, choose the writing style and writing tone in plugin settings. That's it!.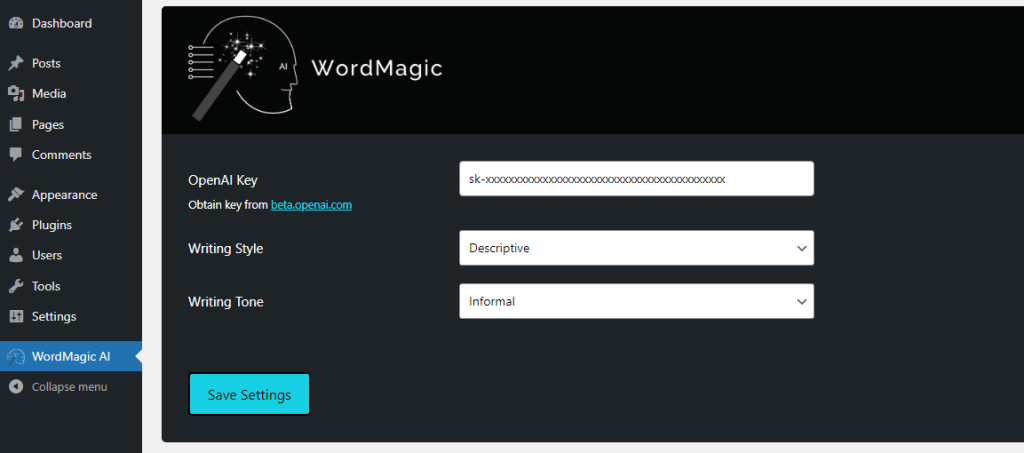 No complex configuration required. Let's move on to the real process of content generation.
Enter a prompt/title for ChatGPT headlines generation

Enter the primary topic and headlines count, WordMagic AI will fetch appropriate sub-headlines for your post using GPT-3 AI Model. You can easily drag & drop the headlines order as shown below and enable/disable image insertion powered by DALL-E image generation AI model.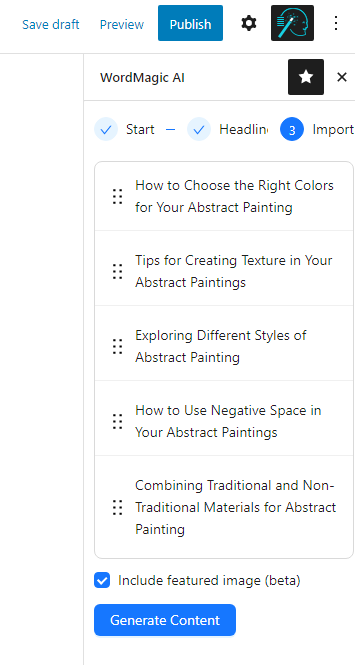 Content Generated by ChatGPT GPT-3 Model
Grab a cup of coffee and watch the content generation happen before you finish your cup!. Yes, WordMagic AI finishes content generation and insertion into gutenberg within seconds!. You don't even need to worry about introduction and conclusion as those will be auto generated by WordMagic AI plugin on the fly. Hit the Publish button and enjoy!.